C&MD's Message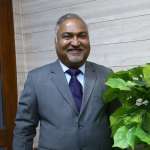 Dr. Dinesh Kumar Likhi
Chairman & Managing Director

Dear Shareholders,
        It gives me immense pleasure to welcome you all to the 44th Annual General Meeting of Mishra Dhatu Nigam Limited. Subsequent to my taking over as Chairman & Managing Director of MIDHANI, this is my 3rd Annual Report highlighting performance of the Company and likely future ahead.
       The FY 2017-18 was a memorable year for MIDHANI.In line with the disinvestment programme of Government of India, MIDHANI, became a Public Limited Company and successfully launched its Initial Public Offer of shares through an offer for sale upto 26% of Government holding. The Public issue was received well and the Shares of our company are now listed at BSE & NSE. I take this opportunity to extend my gratitude to all our investors for their confidence in our Company which is further reflected by the increased market capitalization post listing of our shares.
Performance Highlights:
        Performance wise FY 2017-18, inspite of challenges, has been another year of achievements with best ever Profit after Tax figures of Rs. 1312.62 Million. While we could achieve best ever VoP of Rs. 6976.76 Million, we could not attain growth in sales turnover due to non availability of critical equipment, major being 1500T Forge Press and some furnaces on account of planned major revamping. Profit could be achieved through greater thrust on value added products and reduction in cost. The year also saw MIDHANI taking toddler steps in the exports market. Efforts to enter international markets are also expected to bring result from this year onwards.
       With continued focus on improvement in delivery cycles, Company has further improved its production cycle with 57% of orders booked and executed in the same year. The coming year enhanced efforts in this direction is likely to increase our Order Book position with specific focus on new sectors and products.
        We have been rated "Excellent", by Department of Public Enterprises with a score of 90.92% in MoU performance for FY 2016-17. With this we have now secured "Excellent" rating for 5 consecutive years. For the year 2017-18, based on the achievements, we are confident of getting "Very Good" MOU rating.
Growth Trajectory:
       The year saw former Hon'ble Raksha Mantri, Shri Arun Jaitley, dedicate to nation, facilities commissioned under Phase # 1 of MIDHANI's Modernization programme along with the ground breaking ceremony for the mega project of Wide Plate Mill. During the FY 2017-18 new projects (Tungsten, Springs, Close Die) were approved with a capital investment of more than Rs. 1000 Millions. All the above combined will certainly pave the way for growth in the coming years. Further, thrust is placed for promoting use of renewable energy and towards this, a 60KW roof top Solar plant and 4MW Solar land based plant have been installed during the year, both together having a saving potential of more than Rs. 50 Million/year and 5600 Tons of CO2 /Year.
        The FY 2017-18 also saw MIDHANI taking major steps for implementation of its growth plan by procuring lands at Rohtak for setting up an Armouring Unit and at Nellore for Aluminium Alloy Plant in a proposed joint venture with NALCO for production of high end Aluminium Alloys products. With these acquisitions and firm plans in place, MIDHANI is poised to soon grow from a single unit organization to a multi-unit organization. These are small yet significant steps that are going to define the future for the company. While we are very pleased and thrilled with these developments, we are not resting on our laurels but continuing to work hard in making MIDHANI one of the premier institutions in the Country.
         We seek to enter into the new markets of Oil and Gas, Mining, Power, Railways, Chemical and Fertilizers. These new sectors along with the export markets, being targeted by MIDHANI, shall enable us to achieve higher targets.
Technology Trajectory:
        With the constant developments made over the years in various operational areas, by utilizing in-house Research and Development capabilities and collaborative mode of innovations our Company indigenized various critical technologies, alloys and products which reduced dependence on imports of these critical materials. Our Company has been handling challenging developmental tasks, taking a lead position in indigenization of critical technologies and products to render support to several programmes of National importance.
        Artificial intelligence (AI) techniques have significant potential to provide greater insights into all areas of production and conducting business and we aim to tap and utilize such techniques in our various applications. This coupled with securing our Intellectual Property will be a focus area for your company in the coming years.
        We have an in-house Research and Development team comprising of 14 officers who have in-depth knowledge of the Design and Engineering of special metals and alloys. Our in-house Research and Development team continuously works towards improvement of Product quality and Processes innovation for meeting the expected demands at acceptable costs. A dedicated "Technology Advisory Board", consisting of eminent personalities in the field of Metals and Materials, guides us on the required technologies for the development of new products.
Talent Trajectory:
        The vision and success story that we foresee is not an entitlement, but we need to earn and I can confidently say that we have the best talent pools in Company with an optimum blend of new and old employees to build our success story. The average employee age at MIDHANI is now about 42 years which is 10 years less than the average in the year 2012. The year saw fresh batch of JOTs / SOTs, Management Trainees joining the company and fresh lateral recruitments in the areas of Marketing, Maintenance, R &D, HR, IT and Projects. With this young, vibrant and talented workforce we can scale greater heights which in turn shall help us evolve a competent, cohesive and vibrant culture capable of coping with ever-changing competitive environment and meet our customer demands.
       The IPO presented our employees a unique opportunity to become part owners of the company and more than 50% of our employees are shareholders of our Company. Executive and NUS wage revision was implemented during the year and in order to promote belongingness, skill management, employee welfare, Company has introduced many schemes, made significant contributions towards health care, sanitation, education and also conducted various training programs and workshops for all employees in FY 2017-18. The coming year will also see implementation of People Capability Maturity Model (PCMM) to help in continuously improving the management and development of the human assets of our company.
Social Trajectory:
        In contributing towards the Swachh Bharat initiative, housekeeping was a key focus area and we have all successfully contributed towards the same and are confident of sustaining and further improving on it in the coming years. Your Company continues to fulfill its obligation towards society through its CSR initiatives. Our approach is guided by our CSR Policy, which outlines the Environmental, Social, and Governance commitments of the Company. We have identified and implemented socially impactful projects in a time bound manner with the total amount of Rs. 32.8 Million spent on CSR activities during the year 2017-18 which is the highest ever spent on CSR activities in any single year. Community service presenting an invaluable opportunity for personal growth and enhanced understanding of the challenges facing society today, I always encourage all our staff members, especially our younger staff and retired colleagues, to get involved in our CSR initiatives.
Governance Trajectory:
        The Company continued to comply with good corporate governance practices as stipulated by various statutes and guidelines of the Department of Public Enterprises (DPE). Your Company has secured a score of 99.44% in complying with the Guidelines on Corporate Governance issued by DPE. The Directors on our Board are all eminent personalities with vast experience from diverse fields. The total strength of the Board of Directors as on financial year end is seven out of which four (4) are Independent Directors.
Our Commitment to Stakeholders:
Customers: It is generally stated that the cost of acquiring a new customer is 5 times greater than keeping an existing one. This entails anticipating our customers' needs as well as offering better products, a superior experience and greater convenience of our customers is of prime importance to us to help us retain our customers. I reaffirm our firm commitment to continuous quality improvement and better customer relations. Faced with tough competition we have successfully increased operational efficiency and reduced costs with superior and niche technology helping us adhere to delivery schedules and improve delivery cycles.
Vendors: I have always stated that our vendors are our partners in our progress towards a better tomorrow. Your company is maximizing its procurement through e-procurement process to promote transparency and has incorporated changes to the Purchase Policy to provide a level playing field to domestic suppliers. To interact with our vendors, MIDHANI participated in vendor meet during 18-19th January 2018 organized by all DPSUs at Chennai and around 300 vendors have visited MIDHANI's stall and interactions were held with the interested vendors. Our vendors, both domestic and international ensure prompt, quality and cost effective supply of input materials which has in turn helped us achieve timely deliveries and improve our customer service.
Investors: We at MIDHANI believe in providing our investors with accessible, transparent and accurate information about the company. We understand and appreciate our investors need to learn about our businesses, its strategies and prospects for the future and I further encourage them to follow progress of activities during the year and also reach us to clarify any doubts. I reaffirm our commitment to provide accessible, transparent and accurate information, in strict compliance with requirements to inform shareholders, regulatory authorities and the market in general.
Conclusion: 
        Our ardent belief on our core mantra i.e. "Together we can" (Samashti Krishi, Vummadi Vridhi), not only allows us but also encourages us to adopt the present day challenges and fulfill our responsibilities to our stakeholders and our nation at large. We will continue to focus on creating positive change and prosperity for all our stakeholders in order to ensure equitable and sustainable development to take this Company to an even higher horizon of growth.
        As always I would like to convey my deepest appreciation for the relentless efforts put in by all MIDHANIans. Further, our organization benefits every day from the dedicated energy and time devoted by the members of our Board, I convey my heartfelt thanks to all the Board Members for their valuable contribution in the growth of MIDHANI.
          I also take this opportunity to thank our Administrative Ministry, Ministry of Defence and other offices of Government at both, State and Centre.
        Finally I would like to take this opportunity to thank all the shareholders for their trust and support and solicit continued support to fulfill your expectations.
Thanking You
Jai Hind !!!
Dr. D. K. Likhi
Chairman & Managing Director