C&MD's Message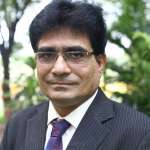 Dr. Sanjay Kumar Jha
Chairman & Managing Director

Dear Stakeholders,
It gives me immense pleasure to inform you that I have assumed charge as Chairman and Managing Director (CMD) of MIDHANI. I express my gratitude to all stakeholders for reposing faith in me and providing their full support to my candidature for this prestigious position.
FY 2019-20 has been an eventful year for MIDHANI. Continued focus on revenue enhancement and cost reduction has yielded results, however, COVID-19 lockdown has affected the final testing and certification and shipment of materials in the month of March 2020.
The entire world has been affected with COVID-19 and at this juncture it is our responsibility to protect ourselves from this pandemic. With due care and discipline, our employees are healthy and safe from this pandemic and a number of our employees have also worked from home and it's with their efforts that we could during the pandemic also supply extremely low diameter Nickel wire for critical care ventilators.
With the concerted efforts of our management team, employees, and partners, I am confident that we can demonstrate the highest resilience to work once this period of uncertainty is over. I am sure that we will restart our normal operations soon with higher energy and commitment to achieve challenging targets ahead.
My sympathies are with all those who have been impacted by the COVID-19 virus. I request you all to take good care of your health. Let's keep ourselves safe and also help others stay safe during these difficult times.
I appeal to all stakeholders of MIDHANI to combine our strength and defeat the impact of this Pandemic.
Thanking You,
Jai Hind..!!
Dr. Sanjay Kumar Jha
Chairman & Managing Director