C&MD's Message
Dear Shareholders,
It is with great pride and happiness that I welcome you all to the 46th Annual General Meeting (AGM) of Mishra Dhatu Nigam Limited. It is my privilege to present the Annual Report for FY 2019-20 with this being my first AGM after assuming charge as Chairman & Managing Director w.e.f. May 1, 2020. In these 46 years, MIDHANI has cultivated a legacy of trust amongst Defence and other strategic sectors such as Space & Energy. I can assure you that, the core values and leadership principles behind our success will continue to guide our actions and decision making in the future as well.
Looking back on FY 2019-20, I can confidently say that we have had a fairly successful year after taking into consideration the backdrop of COVID-19 pandemic which ushered in a new reality for industries across the world. The world today is reeling under the impact of the COVID-19 pandemic, with Governments, healthcare systems and Businesses trying to address the health and socioeconomic impact of the virus. Global supply chains, consumption, travel and tourism have been severely disrupted.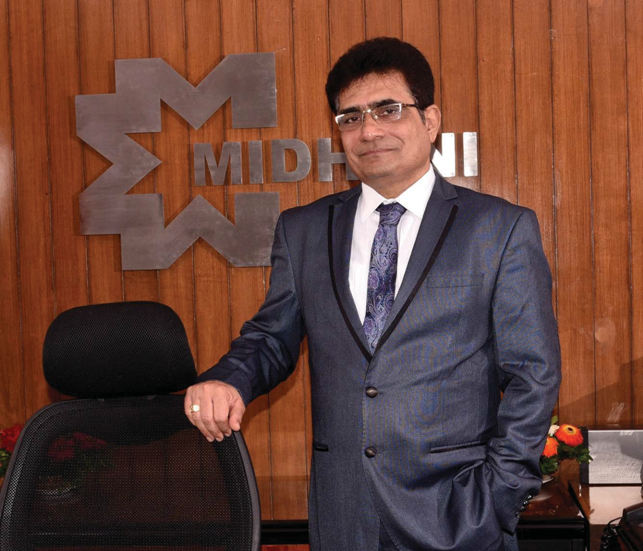 Despite the difficult situation, MIDHANI is looking forward to target the new opportunities emerging from 'Atmanirbhar Bharat Abhiyan', the Prime Minister's vision to make India self-reliant. These initiatives will provide us with the opportunity to explore new products and markets for optimum utilization of our technological capabilities and to also expand our reach by diversifying into new businesses.
FY 2019-20 Performance Highlights:
Your Company has numerous developments and achievements during the FY 2019-20, and I am happy to share some of the highlights. Performance wise, MIDHANI has for the FY 2019-20 recorded its highest ever Value of Production (VOP), Export Sales, Profit before tax, and Dividend payout.
The Value of Production (VOP) at ₹ 97,011 lakh has recorded an impressive growth of 19% when compared with FY 2018-19. Consequently, we have also achieved the highest ever profit before tax of ₹ 20,209 Lakh which is a 5.8% growth compared to FY 2018-19, and the best ever operating profit of ₹ 16,565 lakh. On the sales front, despite the lockdown impacting sales in the end of March, we have recorded sales of ₹ 71,288 Lakh which is at a similar level to the sales of ₹ 71,085 Lakh recorded for FY 2018-19.
Your Company's export turnover was ₹ 1,042 lakh, a growth by 29.4% and we are also happy to report that your Company declared and recommended a dividend (₹ 1 interim & ₹ 1.56 final dividend) of ₹ 2.56 per equity share @ 25.6% for the FY 2019-20.
Also, during FY 2019-20, MIDHANI has dispatched the first consignment of Ultra High Strength Steel and Cobalt alloy for the prestigious Human Space Flight Program of ISRO 'Gaganyaan'. During the lockdown, your Company developed and supplied 1.5 kg. of 0.16 mm Nickel Wire with purity better than 99.6% which was critically required to manufacture Oxygen sensors pertaining to "Critical Core Ventilator" being produced by Bharat Electronics Limited (BEL) for COVID-19 patients.
Broadening horizons: MIDHANI of tomorrow
In line with Government's initiative, prime focus is placed on Indigenization, New Product Development, and Technology Development. The Government's initiatives to make India self-reliant, and increase exports especially in the defence and energy sectors gives further impetus to your company's ambitious goals. Globally, the super alloy market is expected to grow and the key sectors we serve, namely, Defence manufacturing, Aerospace, Oil and Gas are all poised for growth and we expect them to aid our ambitious growth plans. In recent years, your Company has entered into alliances and research programmes with leading PSUs and universities. We are diversified and well segmented, and poised for growth across the board, with our strong R&D, integrated facilities and superior process technologies.
Our Armour plant at Rohtak will focus on the local and global demand for body and vehicle armouring. It is also important for MIDHANI to develop products targeted at the higher end of value chain and in keeping with this vision, during the FY 2019-20, our Joint Venture with National Aluminium Co. Ltd (NALCO) under the name of "Utkarsha Aluminium Dhatu Nigam Limited" to manufacture high end Aluminium Alloy at Nellore, Andhra Pradesh was also incorporated.
Cultivating an Innovative mind-set and value creation:
Make in India Vision We recognize that competitiveness, high-quality diversified products and shorter delivery period is the need of the hour. With our glorious past, I am confident that we can preserve our industrial strength and utilize our production capacities to make our country self-reliant in supply of critical materials of National importance. Your Company places important focus on R&D and a culture of innovation to be competitive and to keep up with the technological advancements. 3 Patents were granted to MIDHANI during the year in special steel, super alloy and titanium alloy for respective applications An expenditure of ₹ 797 lakhs was incurred on R&D in FY 2019-20 and over 10 new products and 7 new manufacturing and technological process have been developed for application in Energy, Space and Defence sector.
Systems for Social Sustainability:
Your Company believes strongly in the equitable distribution of wealth in society and it has pioneered various CSR initiatives. During the year under review, the Company reached out to the society through initiatives in health, sanitation, education, sports, skill development amongst others. During FY 2019-20, Company has spent ₹ 395 Lakh towards CSR activities which is the highest ever and is also more than the statutory requirement.
The Company's signature CSR programmes with specific focus on Promotion of Healthcare and Sanitation, Promotion of Education and Skill Development has brought positive change that addresses critical development issues in areas of school education, sanitation coverage and health care facilities.
Talent management:
Your Company is fully committed to the development and encouragement of talent employed, and to also support the social, economic and professional development of all. The health and safety of our workforce has always been paramount to MIDHANI and in this COVID-19 pandemic we have implemented models—from testing parameters to contact tracing, monitoring social distancing norms, classifying employee risk levels, and providing appropriate healthcare responses.
Several employee welfare initiatives were taken during FY 2019-20 and there is strong focus on empowerment of women employees and providing them with equal opportunity to explore their potential and to perform to their best, on par with their male colleagues, across all levels in the Company. Your company achieved the highest training man days in FY 2019-20, a total of 4703 man days, covering employees across the organization. Both internal and external training programs were conducted, including overseas sponsorship for senior executive training programs.
Corporate Governance Practises:
MIDHANI continues to follow in both letter and spirit, the guidelines issued by the Department of Public Enterprises from time to time. Ethics are of utmost importance, and the Board and senior management confirm adherence to the Code of Conduct guidelines on an annual basis. We are happy to report that, your Company scored 100% as per the revised grading norms for CPSEs, conducted by the DPE on compliance of guidelines on Corporate Governance issued by them.
Your Company and its leadership won several awards during 2019-20, notably the 'Most Trusted Company 2019' by IBC media USA in August 2019, the 'GoldAward for Corporate Excellence' by Skoch Group for one of the projects, and several individual leadership awards for sustainable growth, wealth creation and performance, awarded to the talented senior management.
Conclusion:
On behalf of the Board, I thank all of our esteemed shareholders for your commitment and belief in our capabilities and our work. I am confident that with the faith and trust you have shown in us, we will continue to take big strides in the journey forward and continue to build a valuable national institution.
A Company is nothing without its talent pool, and I am deeply grateful to successive generations of employees who have served and contributed to your Company with their time, dedication and sincerity.
I also acknowledge the enormous amount of goodwill and support that we have received from our customers, the Department of Defence Production and all Government agencies particularly the Government at the Centre, State and local bodies who have provided valuable guidance and support in company management.
Thanking You,
Jai Hind!!
Dr. S. K. Jha
Chairman & Managing Director